President Cortese: "If we are bold," we can stop diabetes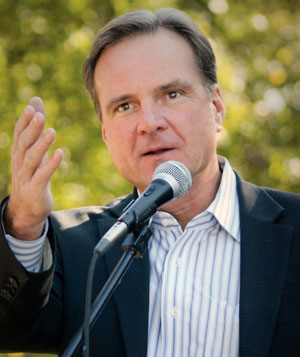 President Dave Cortese gave his "State of the County" address on Tuesday, January 27 to a packed house at San Jose's Montgomery Theater. He spoke about many of our county's pressing problems, and in each case, how we can only solve them if we work together.
That sounds cliché, but it's really not: If homelessness was easy to end, wouldn't someone have done it already? If steering kids away from gangs and drugs had a step-by-step manual, we'd follow it wouldn't we? Sadly they don't, which is why I was glad to hear President Cortese's call to unite across our differences and work together on solutions.  No single tech genius or business leader or dynamic politician can do this alone.
Such is the case with diabetes, which affects hundreds of thousands of our county's residents. 40 million Americans have "pre-diabetes", according to the American Diabetes Association, and alarmingly, most who have it don't know it. This is why President Cortese is calling for increased screenings to catch pre-diabetes before it gets worse. Type-2 diabetes used to be called "Adult-Onset Diabetes". No more. Valley Medical Center's pediatricians have been fighting this disease in children for too long.
The VMC Foundation has been fighting with them. Through grant funding, we helped launch VMC's Pediatric Healthy Lifestyle Center led today by the amazing Antonia Charles, MD. Our Turning Wheels for Kids program aims to get kids off the couch and pedaling their own brand-new bike. With The Health Trust, we opened a Farmers Market on VMC's main campus. With our partners El Camino Healthcare District and Kaiser Permanente, grant dollars become innovative programs at VMC's health centers and specialty centers to battle diabetes every day.
But, as President Cortese said, we have to do more.
His colleague, Supervisor Ken Yeager, will be leading the fight against diabetes and he's already recruiting soldiers. The VMC Foundation vows to continue our role in this fight, as we've done for decades.  Thank you for your leadership, President Cortese. We stand with you.
To read President Cortese's State of the County address, click here.
/wp-content/uploads/2017/11/VMC_Hamburger_Logo_Blue-1.svg
0
0
E. Christopher Wilder
/wp-content/uploads/2017/11/VMC_Hamburger_Logo_Blue-1.svg
E. Christopher Wilder
2015-01-29 16:26:35
2015-01-29 16:26:35
President Cortese: "If we are bold," we can stop diabetes